NEXGEN provides the only software program that combines a computerized maintenance management system with advanced asset management planning capabilities.
PRESS RELEASE
: NOV 5, 2019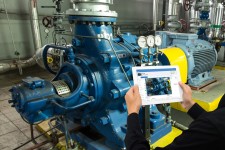 ​SACRAMENTO, Calif., November 5, 2019 (Newswire.com) –NEXGEN Asset Management is pleased to announce that they have been selected by the City of Berkeley (California) to provide software hosting, implementation, maintenance and related services for a Computerized Maintenance Management System and Enterprise Asset Management (CMMS/EAM) software system. The primary objective is to help the city eliminate its use of paper and achieve its goal of zero waste while improving asset and maintenance management. The project runs from December 2019 to November 2020.
"We are really looking forward to working and partnering with the progressive City of Berkeley to help the public works and parks departments reach their asset management goals," says Vincent Yee, President of NEXGEN. "Our software is very well suited to organizations like Berkeley that understand the importance of putting asset management best practices into place and are culturally ready to take that leap. NEXGEN has over 25 years of hands-on experience in asset management program development and software implementation, and we are both excited and honored to be able to help the city along this important journey."
NEXGEN Asset Management was chosen for the project through a competitive and thorough selection process whereby multiple vendors were evaluated over a number of months in 2018. NEXGEN offered the most comprehensive, user-responsive, and effective solution for the city's current and future work order and asset management needs. The CMMS and EAM systems offered by NEXGEN provide state-of-the-art functionalities to better maintain city-owned infrastructure, amenities and facilities.
This improved system will allow greater efficiency by lessening the number of required trips City of Berkley field employees must take to visit a site to address an issue, which results in reduced greenhouse gas emissions associated with travel time. This supports the reduction of carbon footprint and advances the goals of the city's climate action plan. In addition, the mobile application capability of the new CMMS/EAM system will eliminate the use of paper currently being used by nearly all field staff, helping Berkley work towards its goal of achieving zero waste to landfills by 2020.
About NEXGEN Asset Management
Founded in 2004, NEXGEN Asset Management was established as a result of the industry's demand for a comprehensive asset management software solution. The company provides engineering, management, and technology consulting services and produces software solutions.